Trade shows have long been recognized as the epicenters of business growth, networking, and brand exposure. In such a vibrant and competitive environment, businesses must stand out. Enter custom slatwall displays.
Custom slatwall displays are the unsung heroes of trade shows. They play a pivotal role in elevating your brand presence, effectively showcasing your products, maximizing limited booth space, fostering engagement, and simplifying logistics. These versatile displays are the key to making a lasting impact in the bustling world of trade shows, ensuring your brand stands out and your message resonates with attendees.
👉Also read: Digital Signage Magic: Elevating Retail Merchandising with Interactive Displays
Custom Slatwall Displays: Features and Functionality
What sets custom slatwall displays apart is their intricate design and functionality. Their modular nature ensures easy setup and adaptability. Brands can scale up or down, depending on their needs. In the bustling environment of a trade show, these displays ensure products are not just visible but also accessible, making them a favorite among both exhibitors and attendees.
Advantages of Custom Slatwall Displays at Trade Shows
Custom slatwall displays offer a multitude of benefits that can significantly boost your trade show success:
Versatility and Flexibility: Custom slatwall displays are like blank canvases for your creativity. They can be tailored to fit various products and displays, making them adaptable to changing needs. With hooks, shelves, and accessories, you can effortlessly switch from showcasing merchandise to demonstrating your latest technology.
Enhanced Visual Appeal and Brand Representation: Trade show slatwall displays allow you to showcase your brand identity with precision. By integrating your brand's colors, logos, and messaging into the design, you create a visually appealing and cohesive representation of your company. This branding consistency helps your booth stand out and fosters brand recognition.
Increased Attention: The eye-catching nature of custom slatwall displays naturally draws the attention of trade show attendees. Their structured design and organized layout make your booth inviting and easy to navigate. This increased visibility increases foot traffic to your booth, giving you more opportunities to engage with potential customers.
Improved Product Showcasing: Custom slatwall displays excel at effectively presenting your products. With multiple options for displaying merchandise, you can create an organized and attractive product showcase. Whether you're highlighting new releases or showcasing a wide range of offerings, these displays help you make a lasting impression on visitors.
Incorporating custom slatwall displays for your business or into your trade show strategy can be a game-changer. Their versatility, visual appeal, attention-grabbing qualities, and product showcasing capabilities work together to enhance your overall trade show experience and increase your chances of achieving success.
The Power of Digital Signage Displays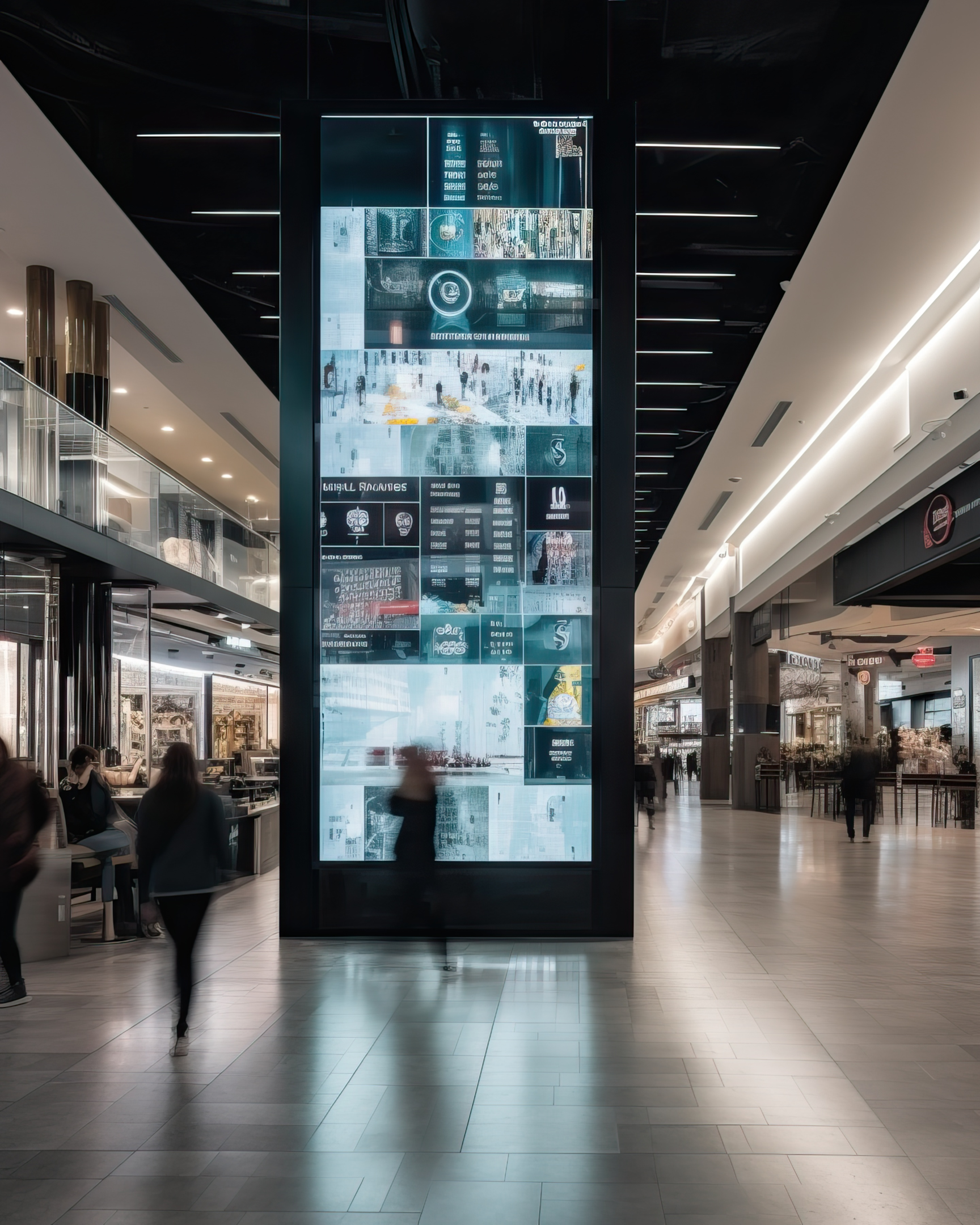 Marrying digital signage displays with slatwalls is a game-changer. This integration transforms static displays into dynamic engagement hubs. Digital signage, with its ability to showcase vibrant visuals, videos, and interactive content, amplifies engagement levels. It facilitates real-time communication, allowing brands to showcase product demos, customer testimonials, or even live social media feeds.
For instance, at a tech trade show, a brand could use digital signage to showcase a product's features through an animated video, while the actual product is displayed on the slatwall. Similarly, a fashion brand could display customer reviews and styling tips alongside its apparel collection. This blend of tactile and digital ensures that brands not only capture but also retain attendees' attention, making their trade show presence truly impactful.
FELBRO Displays: Your Trade Show Partner
Choosing FELBRO Displays is choosing decades of expertise, innovation, and unparalleled quality. We don't just provide display solutions; we partner with brands, understanding their ethos, objectives, and vision. Our comprehensive range of services ensures that every trade show you attend becomes a resounding success.
Expert Support for Your Trade Show Needs
With FELBRO Displays, you're never alone in your trade show journey. Our team of experts is always on hand to provide guidance, from choosing the right display type to strategizing placement for maximum impact. Our commitment is to ensure your brand shines, capturing attention and admiration.
Cost-Effective Solutions for Trade Shows
While there's an investment involved in procuring custom displays, the returns are manifold. Enhanced brand visibility, increased lead generation, and tangible business growth are just some of the benefits. FELBRO's solutions are designed to offer maximum value, ensuring businesses of all sizes can benefit without straining their budgets.
👉Also read: Trade Show Manufacturing Excellence: Creating Eye-Catching Pallet Displays
Elevate Your Trade Show Presence with FELBRO Displays
To wrap up, the combination of custom slatwall displays, display products, monitors, digital signage, and commercial displays is a game-changer for any brand looking to make a mark at trade shows. It's not just about showcasing products; it's about creating memorable experiences. With FELBRO Displays by your side, you're not just participating in a trade show; you're dominating it. Let's collaborate and redefine trade show success together!